Version 2.6.0 of MONARC has been released.
New
MONARC

users who open the home page in the web interface will see an image in the bottom left corner with the text "up-to-date" in green, "update available" in orange or "security update available" in red. This will make outdated version more visible for users of

MONARC

. This version checking is performed thanks to a dedicated service.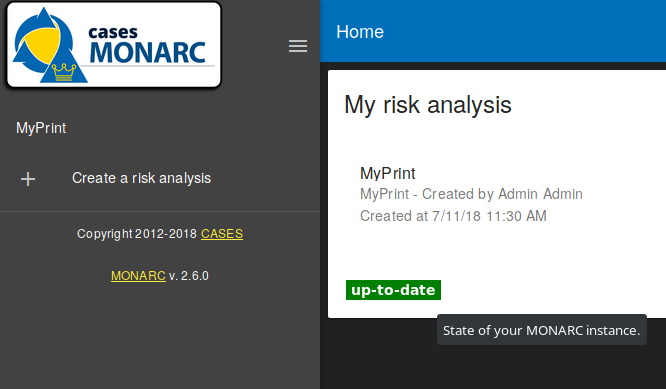 Enhancement
the import and export functions have been improved;
creation of recommendation and missing field (#115);
make an easy link to implement the recommendation directly from the risk view (#112).
Fix
fixed a bug in the table Risk treatment plan management.
problem on date parsing with the date-picker with non-

US

browsers (when using date.toLocaleString) (#117);
it is not possible to reset the duedate attribute of a recommendation since the introduction of the date-picker (#116);
review and correct the functionality of import by fusion or merge (#62)
minor translations fixes.
Updating
To update, check out our update instructions.
You can also download the new virtual machine here.
Training
There are many new things recently in MONARC!
Do not forget our next training in September. You can already register.
Tutorial - Online Event Management with the ticketing solution from XING Events
Spread the word!
Contribute to
MONARC
If you are interested in contributing to MONARC, you can join us at the summer edition of the Open Source Security Hackathon:
Tutorial - Online Event Management with the ticketing solution from XING Events